Kayla graduated from Kendall College of Art and Design with a BFA in Illustration in the Spring of 2014. Following her graduation, Kayla received her first major commission; a mural welcoming visitors to the city of South Haven, Michigan co-funded by South Haven Health Systems and the Filbrandt Family Funeral Home.
Having served a year-long internship at the South Haven Center for the Arts, Kayla co-chaired the 2015 Mistletoe Market, co-judged the 2015 South Haven Art Fair, designed publications, and assisted in coordinating and executing building renovations and maintenance. Still an active member, Kayla regularly enters her work in the various exhibitions held at the center and volunteers there.
Kayla joined South Haven Area Mural Project, aka "Sh-amp", a new non-profit in collaboration with Foundry Hall in Spring of 2017. Since joining she has completed her first mural in partnership with Sh-amp on the RocknRoad building in South Haven, Michigan. She plans to continue to add beauty to her hometown in conjunction with this new non-profit in the years to come.
Family focused and driven, Kayla's work centers around relationships and loved ones. Portraiture as her forte, Kayla enjoys illustrating captured memories shared by generations of family. Kayla's love for portraiture and current employment at the local funeral home have found her a new niche of projects, creating memorial portraits for families who have lost loved ones.
In addition to her figurative work, Kayla also creates landscapes often inspired by her hometown and state. She very much enjoys being outside and has a great wonder and admiration for nature and all its elements, especially water.
Kayla is fluent in an array of traditional media including, but not limited to, graphite, colored pencil, pastel, and watercolor. Although she uses digital programs to assist in her process, Kayla's true passion lies within traditional media. As Kayla's media changes, the themes driving her work remain consistent.
Outside the studio, Kayla enjoys spending time out doors with her family. She enjoys strolling through the streets of South Haven while taking in the scene of Lake Michigan.  Kayla also enjoys riding bicycles, swimming, and running with her beagle, Buddy.
Family oriented, nature inspired, and community driven, Kayla strives to enrich the lives of others and herself through her art. She works to illustrate and share the beauty of creation and its processes.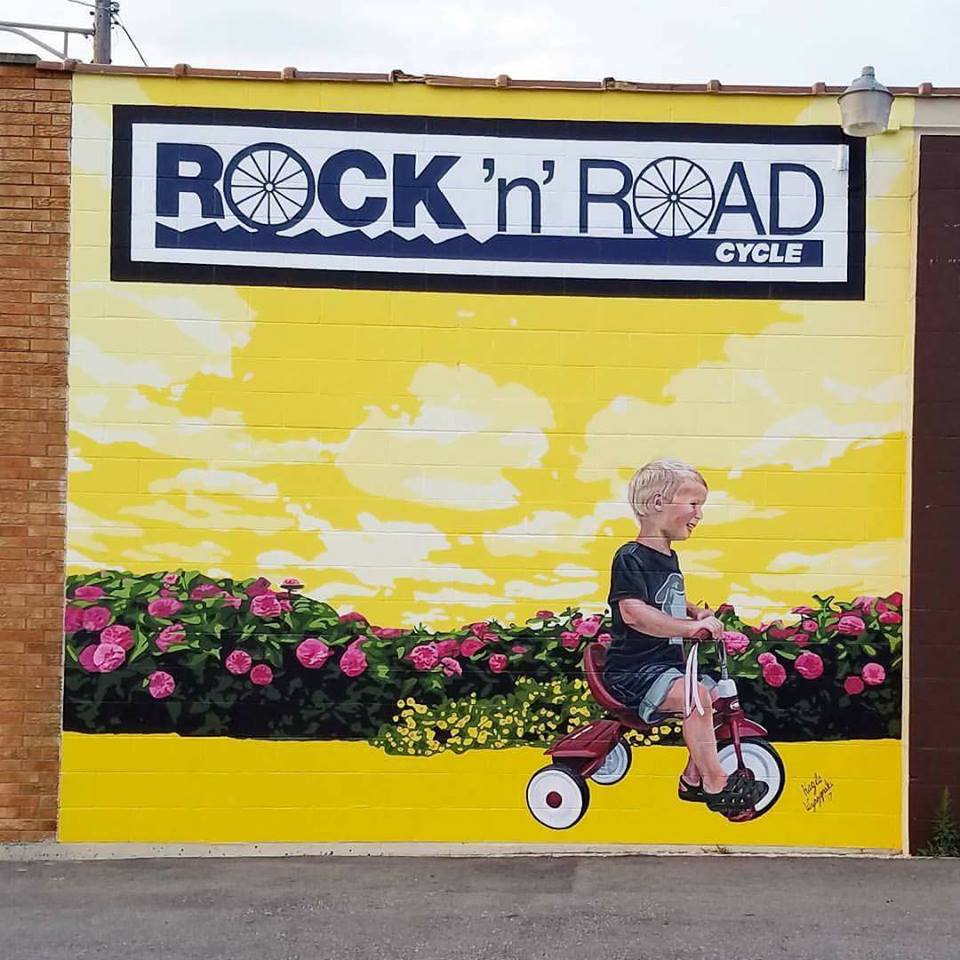 Kayla's "Sawyer's Passage" mural at 315 Broadway, South Haven.  Completed October 2017.Click here to view the creation of "Sawyer's Passage".