Foundry Hall is an all volunteer organization.  If you would like to get involved and help us with one or more of our many projects, give us a shout at foundryhall@gmail.com!  If you would like to support us through a financial contribution you can mail a check to Foundry Hall at PO Box 463, South Haven, MI 49090.  Foundry Hall is a 501(c)(3) non-profit organization and all donations are tax deductible.   All donations are greatly appreciated and will be recognized in our annual report and on our office wall.  Donations to specific programs or performances will be especially recognized…tell us what you want to help make happen!
Foundry Hall has operated for the past seven years as a non-profit, community based music and performing arts center. The motivation behind everything from the booking of national, regional and local original music to the creation of community events such as Song Swap, Tunebugs and our monthly Open MIC has been to provide a place for the South Haven community to enjoy and participate in music.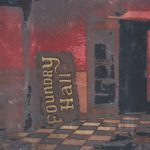 Sadly, we said goodbye to our Eagle street location this year when the building was sold.   We are tremendously grateful for the opportunity to create so many wonderful memories for artists, audiences and the many events that took place there.
A friend connected us with the Robert N. Warren Senior Center and this became the home of Foun
dry Hall  from Jan 2015 to Aug 2016. It was a nice location for our lessons, workshops and some community music programs, but we were unable to attract enough teachers and students to pay the rent and make enough use of the space.  For now we do not have an official home base, but are partnering with other non-profits as well as some businesses in the community to continue offering our lessons, programs and performances.
Most of our sound equipment and theater materials are in storage and we  do hope to create a venue space in the future.  We are continuing to book the fantastic local, regional and national acts we have brought to South Haven over the years and by collaborating with local businesses, other local organizations and the schools we can provide a space to enjoy these performances.
We assist in connecting musicians with other musicians, teachers, equipment, books and resources.  We have given hands on training in lighting and audio engineering to local students inspiring them to continue in the technical area.  We have recently started a Community Music Fund to support local musicians and create more music performances and appreciation in our community.  We love to see our community connect through music!
The mission of Foundry Hall has been evident in the commitment of founder Andru Bemis and the many friends who have helped him over these years. We are and always will be a grass-roots, community minded, art-loving, music-loving organization by providing a space for performing, enjoying, engaging, learning and creating.  We are proud to  support both fantastic dedicated artists and our community in this way.  In June 2014, Foundry Hall received the federal designation as a 501(c)(3) non-profit organization. We have a board of directors, a mission and a vision and are looking into potential grant and foundation funding so that we can reach our next goal of sustainability.
We are reaching out to our friends and fans to ask for financial help to keep us afloat as we work toward this goal and grow as a community music center.  All financial contributions to our organization are now tax-deductible!
To make a financial contribution to  Foundry Hall, please mail checks to:
Foundry Hall
PO Box 463
South Haven, MI 49090
or drop one off at the next show!
Foundry Hall is an exempt organization as described in section 501(c)(3) of the Internal Revenue Service Code.  Contributors will receive a receipt above $250 from Foundry Hall for tax purposes.