Building Community Through Music 
Upcoming Shows and Events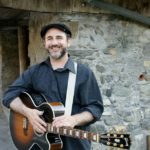 THU 5/4 Jon Shain and F.J. Ventre @ the BRT (downstairs venue) @ 7:30pm
Adv. Tix $10/Day of Show $15 (members $10 at the door)
SUN 6/4 Jazz Lunch at Cogdal Vineyards feat. Benje Daneman (trumpet) and Rufus Ferguson (piano).
12-2pm, light lunch fare available for purchase.  The event is free, but donations are very much appreciated!  A portion of wine sales will go to Foundry Hall in support of the South Haven Jazz Festival in September.
Check out the above menu for information on the Riverfront Concert Series, Tuesday Night Benefit Jams, Rhythm on the River and the First Annual South Haven Jazz Festival!
Looking for our regularly scheduled music programs?
Foundry Hall Community Music Programs