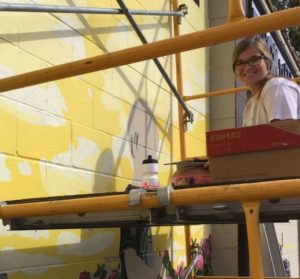 Kayla Wyszynski graduated from Kendall College of Art and Design with a BFA in Illustration in the Spring of 2014. Following her graduation, Kayla received her first major commission; a mural welcoming visitors to the city of South Haven, Michigan co-funded by South Haven Health Systems and the Filbrandt Family Funeral Home.
Having served a year-long internship at the South Haven Center for the Arts, Kayla co-chaired the 2015 Mistletoe Market, co-judged the 2015 South Haven Art Fair, designed publications, and assisted in coordinating and executing building renovations and maintenance. Still an active member, Kayla regularly enters her work in the various exhibitions held at the center and volunteers there.
Family focused and driven, Kayla's work centers around relationships and loved ones. Portraiture as her forte, Kayla enjoys illustrating captured memories shared by generations of family. Kayla's love for portraiture and current employment at the local funeral home have found her a new niche of projects, creating memorial portraits for families who have lost loved ones.
In addition to her figurative work, Kayla also creates landscapes often inspired by her hometown and state. She very much enjoys being outside and has a great wonder and admiration for nature and all its elements, especially water.
Kayla is fluent in an array of traditional media including, but not limited to, graphite, colored pencil, pastel, and watercolor. Although she uses digital programs to assist in her process, Kayla's true passion lies within traditional media. As Kayla's media changes, the themes driving her work remain consistent.
Outside the studio, Kayla enjoys spending time out doors with her family. She enjoys strolling through the streets of South Haven while taking in the scene of Lake Michigan.  Kayla also enjoys riding bicycles, swimming, and running with her beagle, Buddy.
---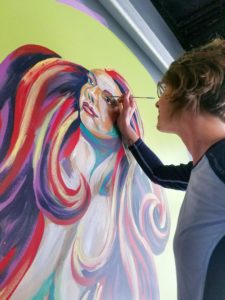 Inspired by uncommon people, unique places, and unfamiliar cultures, Sam Dustin has dedicated her life to artistic expression. She is originally from South Haven and took off traveling for 12 years during which time she acquired a B.A. with a double major in Fine Art & Graphic Design. Returning home to Michigan in 2010, she began her professional career as a tattoo artist. Sam continues to create in a variety of mediums and her art has been growing in scale, as if murals were the next natural progression.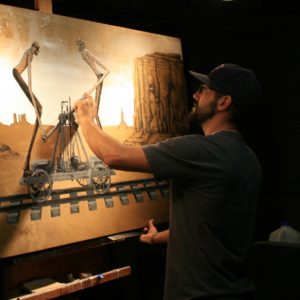 Born on the flatlands of eastern South Dakota in 1984, Tyler Voorhees was blessed with a childhood full of tree forts and fishing poles. He attended Black Hills State University in Spearfish, SD and acquired his BFA in 2006. After working multiple jobs and saving every penny, he chased his future wife across the pond to Germany and lived there for almost two years giving bike tours, teaching English and taking in the rich history of Europe. While there Tyler also worked on honing in on his current collaging technique and developed the elongated whimsical style you see in his art.
After returning to the States in 2010, he focused on his passion for teaching and earned his stripes leading 2nd graders on nature walks and explorations in art. Never putting the paintbrush down, he and his wife Ashley decided in 2015 to quit the rat race and take their son Ivan on the road, committing to his art full-time. For the first nine months, they lived the nomadic lifestyle and traveled over 17,000 miles, keeping only a mailbox in Colorado as their permanent residence. Michigan is now home, but Tyler continues to explore the country with his most recent addition, Orin, gathering inspiration from the open road and sharing his work with art enthusiasts from all over.
---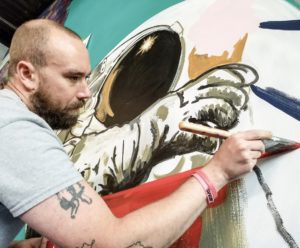 Brandon Gossman hails from South Haven but currently makes his mess in Austin. He's like a Swiss army knife, if they forgot the actual knife and screwdriver attachments. Saturated in "b" movies, skate culture, comic book imagery, and those "build your own hovercraft" or "x-ray glasses" ads in the back pages of boy's life magazine, he attempts to marry these influences with a deep admiration for impressionism and street art hoping to remind us that life is a glorious chaos.
---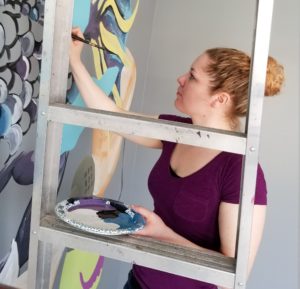 Kelly Gleason