Foundry Hall offers the following free programs every month:
Open Mic (@ the Black River Tavern downstairs)
Tunebugs (@ South Haven Center for the Arts)
Song Swap (@ Warren Senior Center)
Hymn Sing (@ Warren Senior Center)
Middle School Drama Club (@ Baseline Middle School)
Middle School Guitar Club (@ Baseline Middle School)
Teen Open Mic (@ Rock 'n' Road Cycle)
Performing Arts Workshops (@ SHCA)
Second Floor Studio (@ SHCA)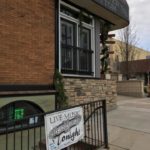 Foundry Hall has produced 9 years of monthly, all-ages, Open Mics in a friendly, supportive, listening environment. Open Mic is the 3rd Thursday of every month in the lower level ("The River Bottom") of the Black River Tavern. Performer sign-up begins at 6 pm, so come on down early and enjoy some BRT food then stay for the open mic featuring South Haven and surrounding area's best amateur musician's in the spotlight. Bring your own talent and share it!  Go to Open Mic Page>>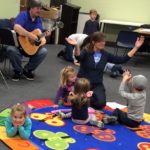 **Tunebugs has moved to South Haven Center for the Arts as of March 8, 2018.  Still Friday, still 10:30am and still lots of fun!
Tunebugs is a drop-in music exploration program held every Friday at 10:30am at the South Haven Center for the Arts.  Led by Foundry Hall volunteers Lotte Resek and Michael Vanden Tak, Tunebugs is geared toward children ages 1-5 and their families. Singing songs, exploring instruments and have musical fun with friends and family, Tunebugs is also a great opportunity to practice taking turns and playing together while trying new things.  Like "Tunebugs" on facebook to keep up with any scheduling information and other info…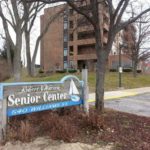 Foundry Hall's twice monthly  Song Swaps are an informal gathering of friends who like to sing and play music together.  Join Foundry Hall volunteer and past board member Joe Foster at the Warren Senior Center on the 1st & 3rd Wednesdays at 7pm. Acoustic instruments of all types are welcome, as are singers and musicians of all ages and skill levels. These offer a great opportunity to get used to singing and playing with others in a non-competitive, affirming environment.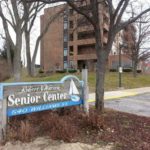 Hymn Sing,  a  twice-monthly (1st and 3rd Sundays at 6pm)  at the Warren Senior Center are a time to sing favorite hymns, gospel songs, and spirituals together. All voices are welcome! Deborah Wesche is our resident pianist and organizer for this event, but guest pianists are welcome and encouraged to lead their favorite songs.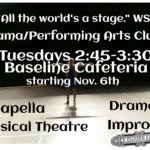 Foundry Hall is starting a free Drama Club at Baseline Middle School for improv games, musical theater and other drama fun.  Led by Nicole Guminski it has been an instant hit at the school.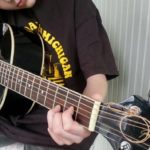 Kids Guitar Club is an opportunity for middle school kids playing or wanting to get started playing to learn from each other offered at Baseline Middle School 2:45-3:30.
A social environment makes it more fun and a chance to get comfortable playing with others.  Led by a Foundry Hall volunteer there is some education infused into the group, but we want it to be about what the group is interested in learning.  Donation guitars are greatly appreciated – send us a message if you have one in a closet or you're upgrading and want to have your old one go to a good cause!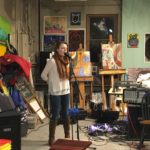 Teen Open Mic!  On the second Thursday of the month we set up a teen open mic at Rock 'n' Road Cycle (315 Broadway).   This is an open mic/talent share/social opportunity for the younger musicians, poets, artists, etc. in the area.  We'd love to have some younger people help us run it, plan the next one and participate.  Give us a shout if you want to help!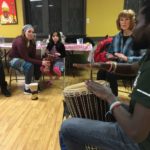 Foundry Hall Artist in Residence, Samuel Nalangira, leads workshops at Epiphany Church.  Using traditional, handmade African instruments and Samuel's original music students learn drumming techniques, rhythms and African dance styles all in a fun, supportive, engaging environment!
All ages (under 8 needs adult accompaniment)!
Tuesdays @5pm
Fridays @7pm
$10/workshop (Pay at the event)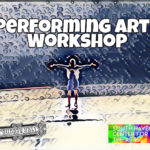 Foundry Hall and The South Haven Center for the Arts are proud to offer to the community Performing Arts Workshops!!  Starting Wednesday, March 6th, these weekly workshops will be jam packed with tons of fun and entertaining theatre exercises, games, improv and lots more. There will be an opportunity to participate at the end of the 6 weeks for a performance (optional). 
March 6th – April 17th (NOT meeting April 3rd due to spring break)
Ages 13 and Up:  3:00 -3:45 pm
5-12 year olds:  4:15-5:00 pm
Cost for the workshops is $50 for all 6 weeks or $10 each drop in session.   
All workshops will be held at The South Haven Center for the Arts at 600 Phoenix St.
To Register please contact Nicole Guminski at NicoleGuminski@gmail.com or call /text (269) 214-7890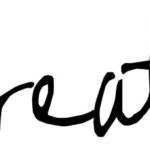 Foundry Hall and South Haven Center for the Arts offer a twice monthly open studio time upstairs at SHCA.  Join us to experiment with new materials and create!
First and third Thursdays 5-6pm,  February 28th through May.
A $5 material fee is requested (fee-waiver if available as needed). Students grades 4th through 12th grade are invited to join us. Limit 30. Registration forms needed. Please email info@southhavenarts.org with any questions.
---
All community music programs are free and open to the public.  Donations are appreciated and go into to the Foundry Hall Community Music Fund.