Creating Community Projects
All of these projects were coordinated by Foundry Hall volunteers!  Grant funding, sponsorships and donations are used to pay musicians, sound engineering and supplies.  Check out the Creating Community Fund page to find out how YOU can help, too!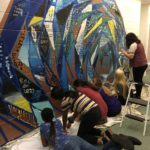 Foundry Hall board member and volunteer Fatima Tucker created a mural opportunity with graduating 8th graders at Baseline Middle School.  (more…)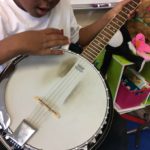 Foundry Hall participated in Arts Day for elementary students at SHPS's Lincoln Elementary with both a string instrument petting zoo and a watercolor painting station.  (more…)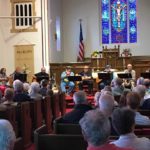 Foundry Hall volunteer Dan Pierce and musicians from the  Song Swap group created a program of Pete Seeger's favorites and other songs from his era to celebrate what would have been Pete's 100th birthday.  This was the second annual celebration of folk legend Pete Seeger.  He very much would have enjoyed Foundry Hall's efforts to create community in and around South Haven with music and art!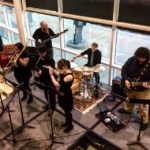 Foundry Hall and Lake Michigan College partnered this winter to create an event celebrating the LMC Jazz Ensembles and regional favorite Ivan Akansiima and his trio.  Paired with LMC wine from their Vintner program and chocolates created by the LMC Culinary Arts program the event was a great success! (more…)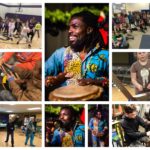 Ugandan musician Samuel Nalangira moved to town for four months to share his music, dance and songwriting talents as well as his good natured spirit. (more…)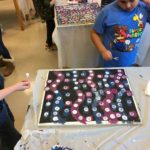 In November, Sh-amp (South Haven Area Mural Project) and Foundry Hall collaborated with North Shore Elementary Students to complete a ceiling mural at the South Haven Ice Rink (rental area).  (more…)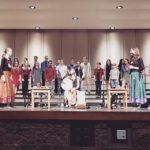 Touring musicians from New York, but originally from Italy, Brazil and Hungary, lead workshops with students for two days and performed for the community October 12th. (more…)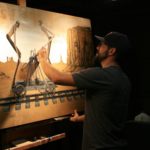 Sh-amp artist, Tyler Vorhees, is painting a mural depicting the history of South Haven in  workers of its storied past. This first section completed during school hours in the fall 2018, focuses on the lumber industry as well as fruit farming. (more…)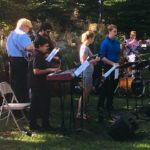 Foundry Hall proudly presented two evenings of jazz in Dyckman Park.  This free festival showcased fabulous local and regional jazz musicians and served regional craft beer and Cogdal Vineyard wine under the trees in Dyckman Park.  For info on next year's festival visit our Jazz Festival page.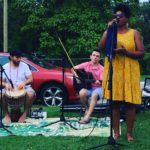 Foundry Hall helped Ward 1 CAC, PUSH, Epiphany Church and YDC create an end of summer community picnic at Elkenburg Park.  (more…)
We've been doing this kind of stuff for 10+ years, but we're still working on getting this page up to date.