Creating Community Projects
All of these projects were coordinated by Foundry Hall volunteers!  Grant funding, sponsorships and donations are used to pay musicians, sound engineering and supplies.  Check out the Creating Community Fund page to find out how YOU can help, too!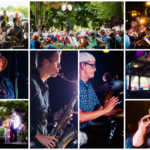 The 3rd Annual South Haven Jazz Festival was a great time with fantastic music, appreciative audiences, good beer, lovely wine, yummy food and cooperative weather!  more…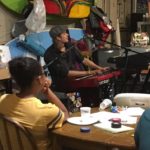 September's Teen Open Mic at Rock n' Road Cycle (thanks for letting us use the space again Scott and Erin!) was hosted by The Charlie Millard Band from Alanson, MI.  (more…)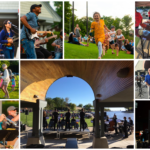 Foundry Hall wrapped up the 2019 Riverfront Concert Series on August 29th with a performance by the Last Gasp Collective.  We enjoyed this summer's series of everything from bluegrass, jazz, reggae, rock n' roll to hip hop!  read more…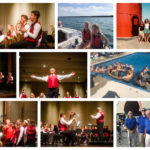 Foundry Hall and the South Haven High School Music Department coordinated a four day stay for a touring symphonic band from Bipertal, Germany.  21 hosts housed, fed, transported and entertained 51 musicians in and around South Haven from August 13th through the 16th.  (more…)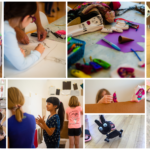 Foundry Hall and the South Haven Center for the Arts held a week long puppet camp this summer as part of the Kids' Collaborative.
Campers made finger puppets, shadow puppets, paper fish puppets and marionettes and made up stories for all of them.  They worked together in groups and learned a lot about design, storyboards and working with different materials.  It was a creative blast!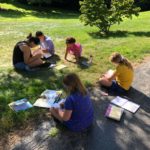 Foundry Hall led a poetry and songwriting camp at the historic South Haven Scott Club.  Campers delved into books of poetry, wrote some original poetry, shared them aloud using a microphone and then put some of them to music.  The week involved a lot of instrument playing as well, including the Everett grand piano.  It was a very fun week!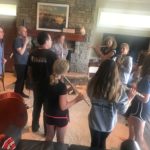 The non-profit organization Seven Pillars held their annual Interactive Flute Retreat in South Haven in August with a new opportunity for young musicians.  (more…)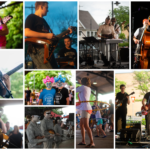 Another stormy weekend for our Rhythm on the River (at the Pavilion) kept us on our toes and working hard, but we had two nights of awesome music!  read more…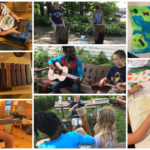 Instruments, drawing and painting, games, fort building, running in the woods, porch sitting, chalk drawing, Foundry Hall's music camp was a mixed bag of fun for a week in mid July.  Mid week we had Samuel Nalangira join us to learn about his hand made instruments and to play a bunch of drums together outside.  It was an experience and a couple of kids left with new found love of guitar and ukulele!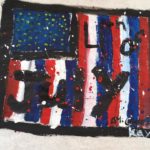 This is third year Foundry Hall has organized an entry in the popular 4th of July parade.  We held a couple of parade fixins' make sessions at SHCA ahead of time and invited anyone and everyone to join us in carrying flags, hula-hooping and handing out candy.  Two teenagers rode in a trailer playing "star spangled guitars" and we all had fun and survived the heat and humidity that always accompanies this parade.