Foundry Hall offers programming for our younger community members.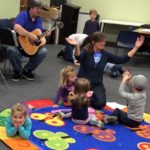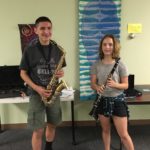 Tunebugs is a free, weekly music exploration for preschool aged kids at the South Haven Center for the Arts (as of March 2019).
Tunebugs invited band and orchestra students to join them during the summer and two loyal volunteers in Kitty and Yamil came every week!
---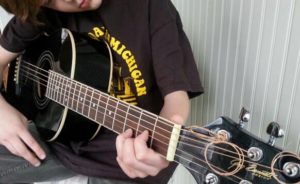 Guitar Club is a free, weekly get together for younger guitar players from beginners and up.  It started at the South Haven Library over the past summer and is now at Baseline Middle School on Thursdays after school.  We are taking guitar donations as well as tuners, capos, new strings, pics, etc…and, of course, money to buy this kind of stuff!
---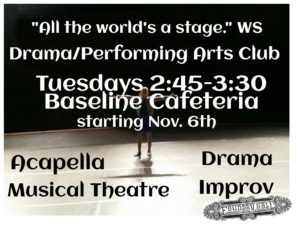 Foundry Hall offers a free Drama Club at Baseline Middle School for improv games, musical theater and other drama fun.  Led by Nicole Guminski it has been an instant hit at the school.  Starting in March there will be a performing arts class at SHCA!!
---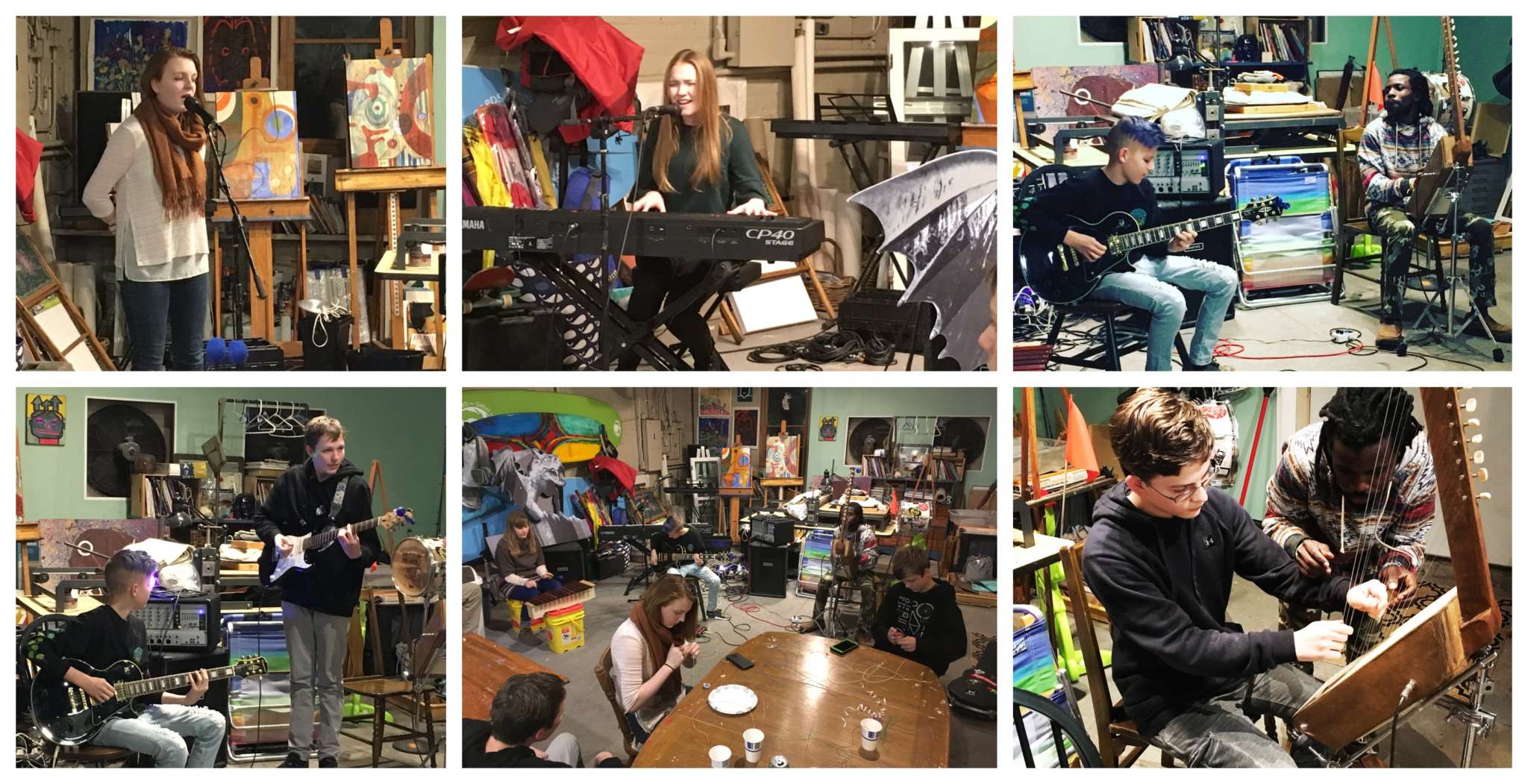 Bike Shop Teen Open Mic is a new project "geared" toward teens and offered monthly (and now meeting behind the bike shop!)  We're planning for regional musicians and artists to host  sharing their stories and perspective.
---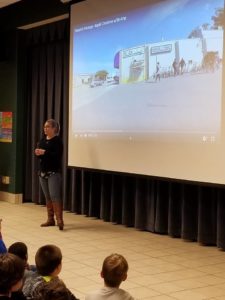 SHAMP (South Haven area mural Project) led  North Shore Elementary and Baseline Middle School students in workshops creating murals in the ice rink office this year.  Shamp artist Kayla Wysynski presented a time lapse video of "Sawyer's Passage" the first of four walls on the side of Rock 'n' Road Cycle.  Shamp artist Tyler Voorhees shared a story about art with the students as well.   The fourth graders worked in teams to paint the ceiling tiles from the ice rink and the 5th graders cut out snowflakes to create a snowy sky mural.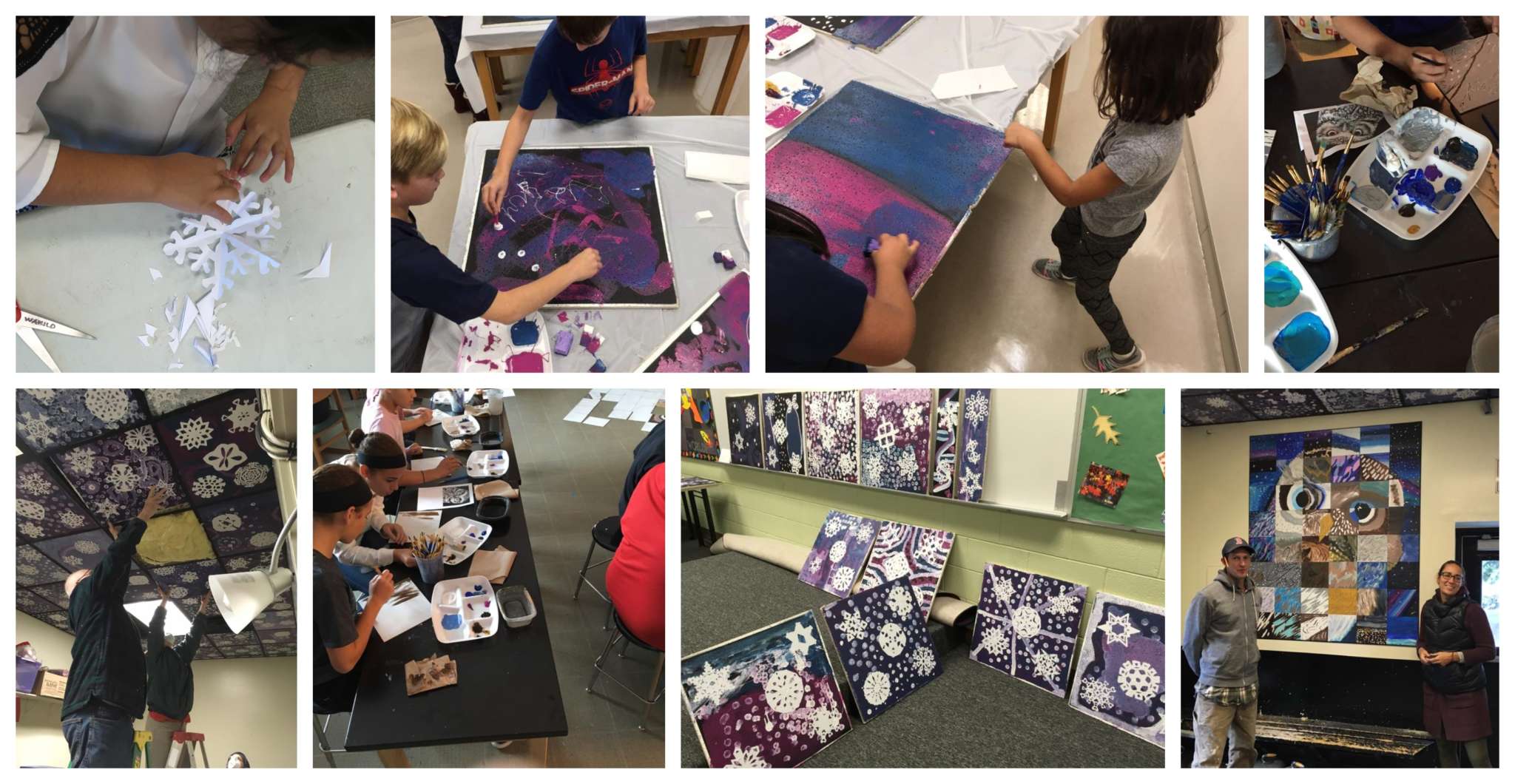 ---
Tunebugs volunteers offer Instrument Petting Zoos to schools, camps and really whenever asked!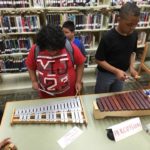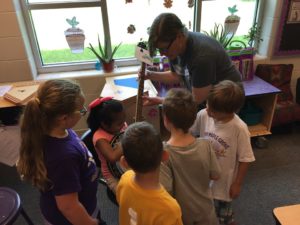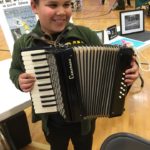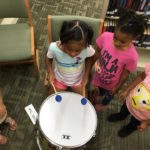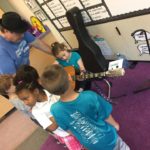 ---
Foundry Hall has coordinated projects in the SHPS and are other area schools over the past four years.  These projects originated with the artists contacting us and offering unique experiences for our students.  Foundry Hall has generously made this possible through donations, grant funding and hard works – all done by volunteers.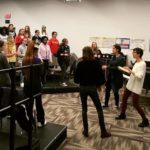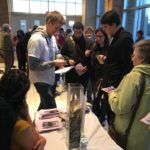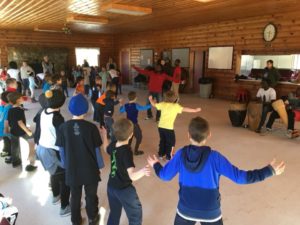 Glenn school workshop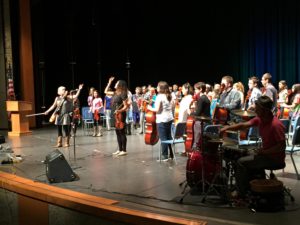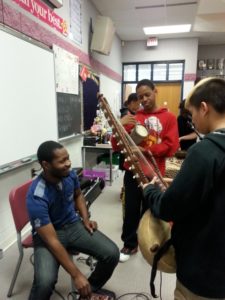 Kinobe workshopUgandan musician Kinobe presented his hand made instruments to Baseline middle school band and orchestra students during our first school project.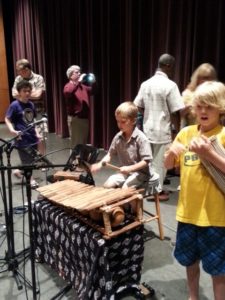 Audience members from Kinobe's community concert tried out the instruments on stage after the performance.
---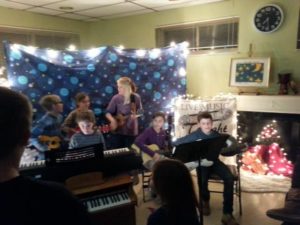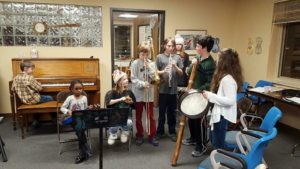 Foundry Hall offered a "Talent share" opportunity for two years and would like to bring it back!  It was a very relaxed, comfortable environment for kids to share what they are working if they are taking lessons, what they have come up with on their own and even what they can come up with in the moment, sometimes with others!
---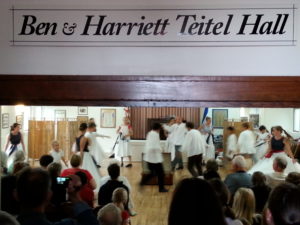 Foundry Hall volunteers hosted the touring dance group "Dance Studio Light" from the Czech Republic with a community performance downstairs at the First Hebrew Congregation of South Haven.