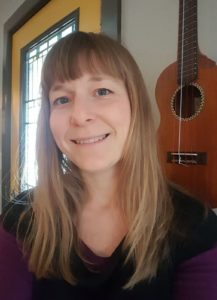 Erica Huizenga has been part of Foundry Hall as a participant and volunteer since 2014. She closed out the last Open Mic in the Red Room (2014) and attended the first Open Mic at the BRT (downstairs). After becoming friends with FH director Lotte Resek, and FH founder, Andru Bemis, she was inspired to learn the ukulele and grow as a musician and performer. Erica continues to write and perform original music with her husband, Doug at Foundry Hall's Open Mic.
Three years ago, Erica became more involved in volunteering for Foundry Hall through Rhythm on the River, a FREE, outdoor, music festival for the South Haven community. She now sits on the ROTR committee and coordinates this event. Erica is currently on on the Foundry Hall board and supports this non-profit in its efforts to "Pursue Happiness through music and art!"
Erica states "I am grateful for the relationships my family and I have formed with a generous and supportive community of people thanks to Foundry Hall". When Erica isn't planning Rhythm on the River or rehearsing an original on the uke, she is an Emergency Room Registered Nurse of almost 20 years, a wife and mother of two talented kids. She is also a hobby farmer and loves to hike with her dog, Alice. Contact Erica if you are interested in learning more about Foundry Hall's open mic or if you want to volunteer for Rhythm on the River!