Vibraphonist Jim Cooper led a workshop at South Haven High School on how to join in on a jazz jam.  Open to any interested students, the workshop was held after school on Tuesday, November 5th  in the band room.   Students played their instruments and Jim described how their parts work together in a jam and how to take solos and support soloing musicians.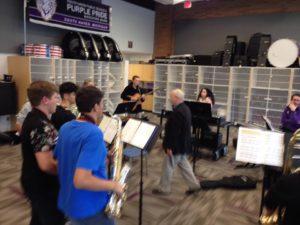 This workshop was created in hopes of having some students join Jim's trio for his Jazz Jam series on the second Tuesday of November and December at Harbor Light Brewery in downtown South Haven.  We'll see if some students show up next week and give it a try!
This workshop was made possible by the Foundry Hall Creating Community Fund.  For more information about Jim Cooper check out his website.