Foundry Hall created a "What About Jazz" workshop with the Randy Napoleon Trio prior to their performance at the South Haven Center for the Arts on Friday, November 1st.  Billed as a catch-all workshop about anything from what is jazz to the nitty gritty of playing together in a small group, the workshop did just that!  There were jazz students, jazz appreciators and even people just curious who came to the workshop and they got to hear all about it.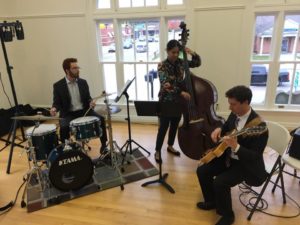 Randy brought two of his MSU undergrad students to play with him and they were flat out fantastic.  Leonie Mateo plays upright bass and helped explain and demonstrate "playing the changes".  Nick Chard played drum for the trio and chimed in on techniques used by well known jazz musicians.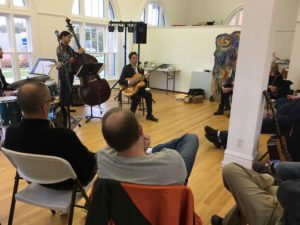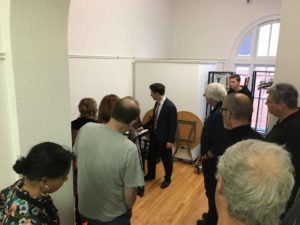 Randy gave us amazing demos on improvising scales, subbing in chords and examples of techniques used by some of the great jazz guitarists.  The trio illustrated many concepts by playing portions of songs.  Randy also gave us insight into the various ways musicians learn to play and learn from each other.  It was a really enjoyable, flexible program.   For more information about Randy Napoleon please visit his website.
This workshop was free to make it available to whomever and was made possible by the Creating Community Fund.